Overview
Our clinical investigators develop and test novel drug, device, and lifestyle-based therapies. We create and test next-generation tools and protocols aimed at optimizing patient care.
Our clinical research programs allow patients to participate in state-of-the-art research that tests new treatments for cardiovascular diseases. Our investigators carry out a broad range of research protocols that include testing of new drugs as well as development and testing of novel cardiac and vascular devices. We also develop and test community and clinic-based interventions that aim to improve cardiovascular health via lifestyle modifications and innovative health-care delivery approaches. We are deeply committed to the highest ethical standards as we enroll and treat our patients.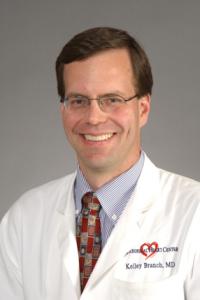 Latest Publication
Dr. Kelley Branch joins the CircOnTheRun Podcast, hosted by the American Heart Association, to talk about his later paper (the COMPASS trial) on use of rivaroxaban and aspirin in patients with heart failure.
Current Trials
PARTNER 3 trial
PARTNER 3 is a national study that investigates safety and efficacy of transcatheter aortic valve replacement (TAVR) using the Edwards SAPIEN 3 (3rd generation) device. This trial is targeted at patients at low risk for surgical aortic valve replacement (AVR).
Nicotinamide riboside in systolic heart failure
This early-stage study randomizes participants with systolic heart failure (left ventricular ejection fraction ≤40%) to treatment with nicotinamide riboside (an over-the-counter agent) or placebo. Nicotinamide riboside will be up-titrated to a final oral dose of 1000 mg twice daily, to determine whether it is safe and tolerable in patients with systolic heart failure.