Rotation Overview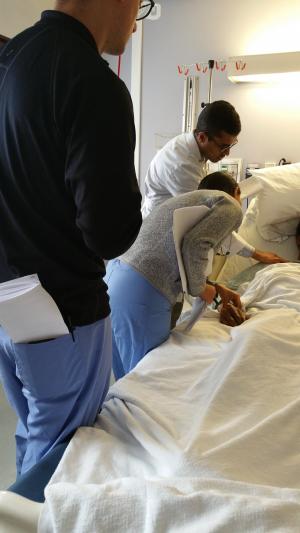 The first two years of fellowship training expose trainees to the broad spectrum of clinical cardiology.  Fellowship training at UW Cardiology is rigorous with high clinical and procedural volumes.  Trainees manage high acuity patient populations at state-of-the-art facilities, serving as cardiology consultants for acutely ill inpatients, providing critical (ICU) cardiovascular care, ambulatory care, and performing/interpreting invasive and noninvasive diagnostic procedures.
Procedural volume is tracked throughout training by the specific laboratories (echocardiography, cardiac catheterization, nuclear cardiology) and a self-reporting system.
The third year of fellowship training includes integrated training in advanced clinical and scholarly work, including participation in clinical quality improvement initiatives.  Rotations align with Accreditation Council for Graduate Medical Education (ACGME) requirements and the American College of Cardiology's Core Cardiology Training Symposium (COCATS) guidelines for clinical core training in cardiology.
Year One
Cardiology A UWMC (general inpatient cardiology wards)  
UWMC Echocardiography I (transthoracic/stress)
Harborview Inpatient Wards/CCU
Harborview Inpatient Cardiology Consultation/Cardiac Catheterization
Harborview Echocardiography
VAMC Inpatient Cardiology Consultation
VAMC Cardiac Catheterization
---
Year Two
Cardiology B UWMC (heart failure/transplantation inpatient cardiology wards)
Cardiac Intensive Care Unit  
UWMC Echocardiography II (transesophageal)
UWMC Electrophysiology
UWMC Inpatient Cardiology Consultation
UWMC Nuclear Cardiology
UWMC Adult Congenital Heart Disease
UWMC Cardiac Catheterization
---
Year Three
Cardiac Intensive Care Unit  
UWMC Mechanical Circulatory Support (VAD)
Advanced Subspecialty Elective Time
Clinical Quality Improvement
Research Blocks